NSW Rural Fire Services
UX & UI | Product design




The Australian bush fires of 2019-2020 burnt a deep scar within the New South Wales landscape and its communities. While the NSW Rural Fire Services received large volumes of volunteer interest to support firefighting efforts, the service itself had technological and process challenges to effectively utilise the community's goodwill.

Deloitte Digital was engaged in early 2021 to digitise the previously offline volunteer application process, with ServiceNow chosen as the platform to collect volunteer application data and triage the allocations to appropriate RFS staff in the approval process.

I lead the detailed design of the end experience over a 2-month period, working with the client and other members of the team to co-design the applicant, volunteer and staff experience. I also created a digital design system that the RFS can leverage for other digital products in their future pipeline.

Visit the site:

NSW RFS Role Explorer







A v-commerce experiece
There are many ways for RFS volunteers to support their community, not just firefighting. However, it's not well known to potential volunteers what they can do based on their skillsets and interests, or what kind of health requirements and time commitment might be involved with different types of memberships. In workshops with both RFS district staff and volunteers within brigades, we also found that roles can vary amongst brigades, with applicants often unaware and unprepared for the complexity of the whole application process.

It become clear that upfront exploration before the potential volunteer even starts their application was actually a crucial yet missing part of the experience. So we created the RFS Role Explorer, leveraging e-commerce best practices to help interested individuals 'shop around' for the most suitable role before deciding how they want to spend their time. We tested ways of sorting the main types of roles, memberships and volunteer career pathways, to arrive at a level of detail that was useful but not overwhelming. The content design also covered the steps and requirements in the application process, with a brigade finder to help the applicant find the nearest and most convenient brigade to get to.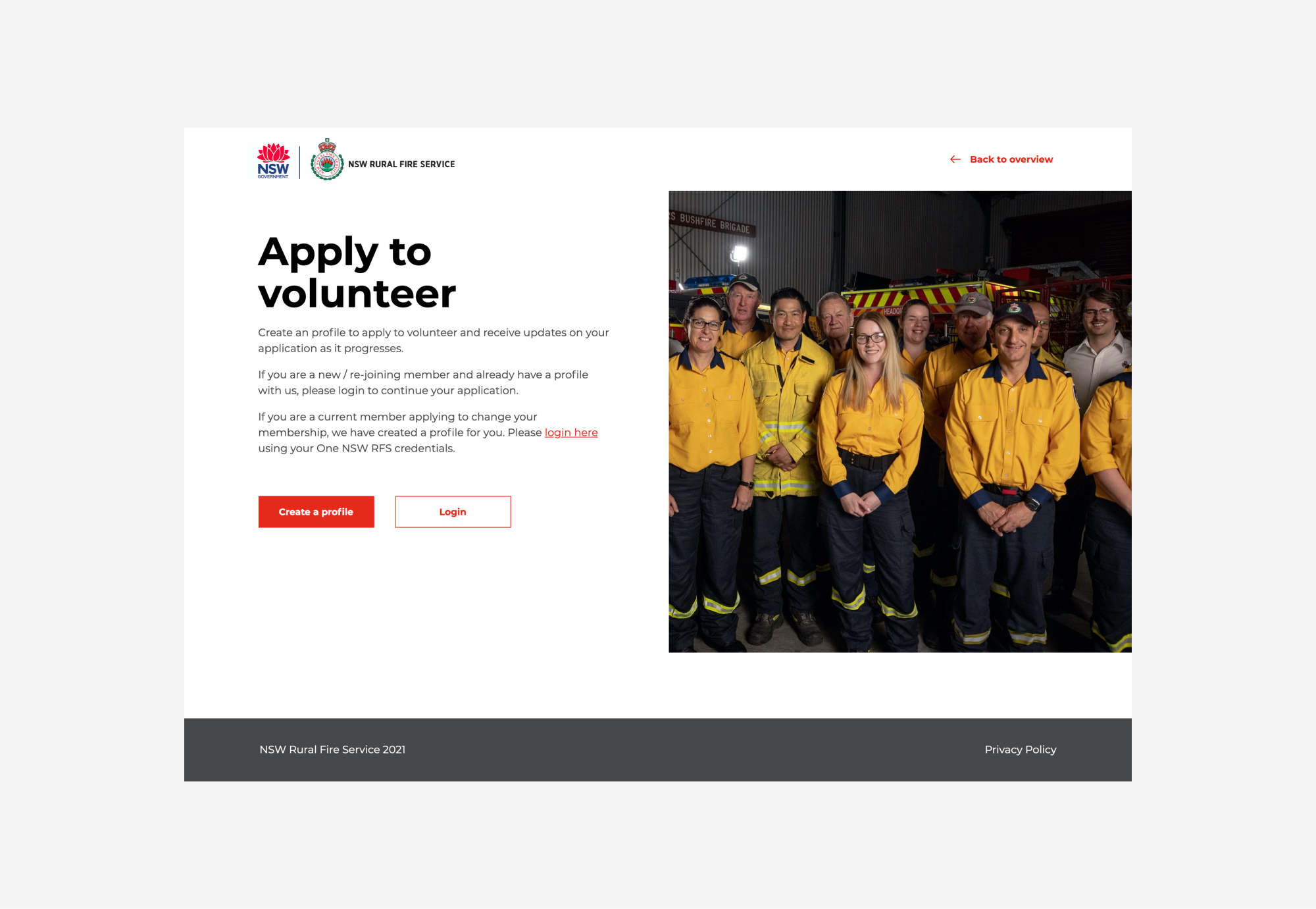 Digital applications
The RFS originally had one paper form for all types of volunteer memberships, including applications for existing members to transfer to another brigade or take on a different role. These physical forms could get smudged, lost or incorrectly filled out with information that then needed to be requested from the applicant again. Going paperless allowed the NSW RFS to progressively disclose questions and instructions to the applicants, pre-populate existing volunteer information and triage applications based on urgency and time since submission. Applicants can also be kept up-to-date with the status of their application and access relevent resources at different steps of the way.

ServiceNow's existing workflow templates were leveraged and customised to address the experiential and security requirements of the volunteer application process. While addressing the technical complexities of digital parental consent for junior members and pre-requisite national police checks, we also workshopped the new process a digital flow would require from the NSW RFS staff, and tested the language used to explain complex terms and considerations.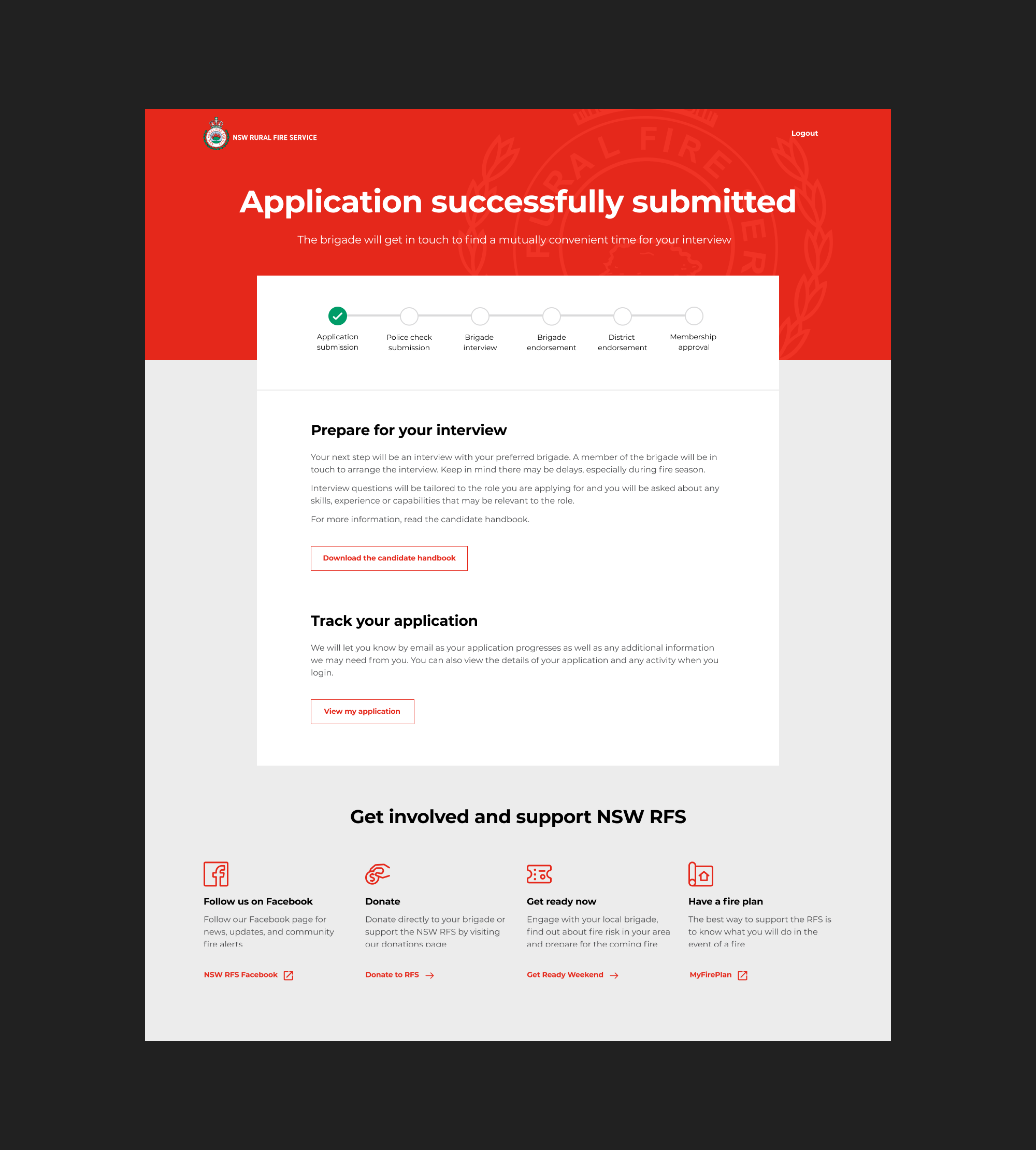 Client
NSW Rural Fire Services

Agency
Deloitte Digital Australia

Collaborators
Debra Taylor
National content lead

Harry Mann
National UX lead

Christine Stanley
UX delivery manager

Emily Hudson
Senior design researcher

Clarissa Lim
UX designer

Jamaica Eisner
Content strategist