icare self service tools and design system

UX & UI | Product design




The combined body of five separate organisations, icare was formed in 2015 to provide insurance and care services to businesses in New South Wales. Deloitte Digital worked alongside them in their digital transformation program, starting with a new website for this new organisation.


After the website first launched, I went into the program as Creative Design Lead in a placement of eight months, first to work on a suite of enhancements to the website, then a range of other online self service tools for different service lines. In this period we established a design system that allowed the business to scale their digital offerings with increased efficiency, which ultimately lead to the creation of a living experience language guide.









Catering for diverse government agencies
The icare Insurance for NSW scheme provides self insurance to NSW Government Agencies. Hence the users are a small, diverse but highly specialised group of people that come into the portal to fulfil very specific roles for a very particular kind of organisation. Flexibility was key to designing this one-stop-shop for government agencies, and over 4 main releases we introduced more roles, permissions and functionalities to power users and new starters alike.


Foundationally, we opted for a dynamic dashboard, with conditional visibility based on roles that surfaced only relevant modules and functionalities for each role. The dashboard served as a springboard into many deeper flows, some of which were single-sign-on onto other platforms, and some carried out in the portal itself. We omitted a global menu from this portal as each functionality only went two layers under the dashboard, and every feature relevant to a role is accessible via the dashboard itself. Some key features we designed in the initial releases of the portal included events, quote and application for a construction risk policy.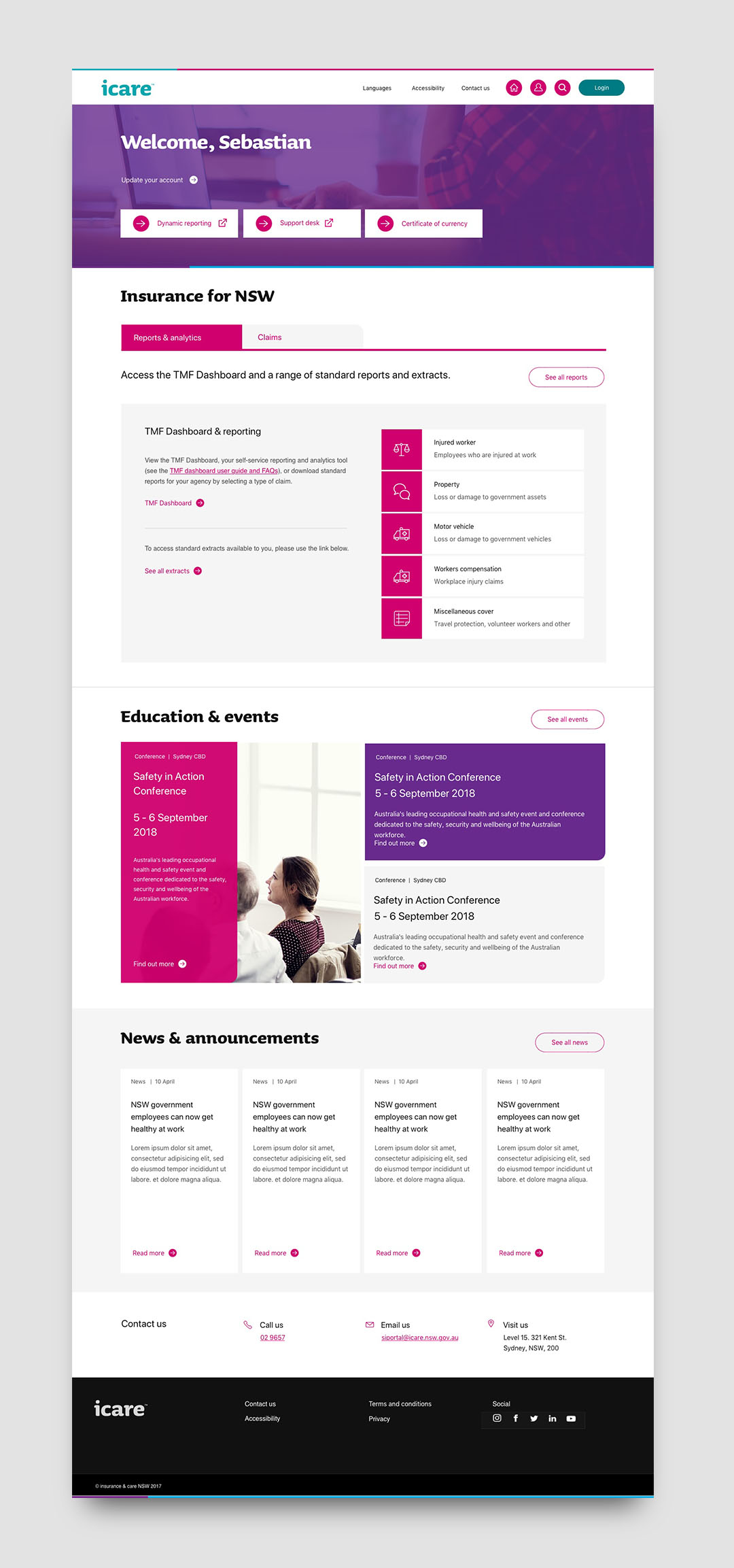 Facilitating industry insights

As a state government service provider, icare collects and analyses a broad range of data in order to improve their initiatives and share insights. While these insights were shared as static content and reports in the past, there was appetite and desire for an interactive tool, with which different audiences from brokers to unions can look for their own insights by comparing and looking deep into the data, at the level that is relevant for them.

The Industry Insights tool for the Workers Insurance scheme was a first step down this path, integrating their Qlik Sense reporting tool into the website to provide interactive visualisations driven by multi-layered filtering. As the public audience that would come to this tool may scan, browse or deep dive into the data, content drives the interactions and was chunked according to the level of detail that the user may go into.

Empowering injured workers and their employers
After the launch of a digital Workers Insurance claims application form, we worked on a self-service portal for tracking and managing claims for both injured workers and employers. With an iterative process that tested high-level concepts, detailed features and usability, the tool was designed to instill a peace of mind for people who need to experience a workplace injury claim.

Adjusting views for different roles that possess different levels of access, the product was geared to make injured workers feel confident about the their path to recovery, but also give employers the satisfaction of knowing their losses are covered. Roles ranged from return to work coordinators, human resources and payroll in an employer organisation, to injured workers that experienced light to severe injuries.

Maturing the design system

While the website launched successfully with a collection of components, the functional needs of portals and new website features required enhancing the existing components and the creation of new ones. This happened organically as new projects came into production, with every stream feeding into the library and pulling through the same shared features. The federated model for building icare's design system allowed teams to share both design and development effort along the release schedule, and added flexibility for modules to be updated along the release train when required.


The business has since started to internalise more capabilities such as design and development, and build their own teams to continue the scaling of icare's digital offerings. To ease this transition and provide a platform that will reach out to the digital service community in general, we proposed a living guideline to house both the knowledge and the assets for creating and updating products.

Client
icare

Agency
Deloitte Digital

Collaborators
Ema Karavdic
UX design lead

John Daniel Rhys Mirabell
UX designer

Marina Boutros
UX designer

Minnie Zhu
UX designer

Jeanne Tian
UX designer

Carrie Webster
UX designer

Alexia Combet
Strategist